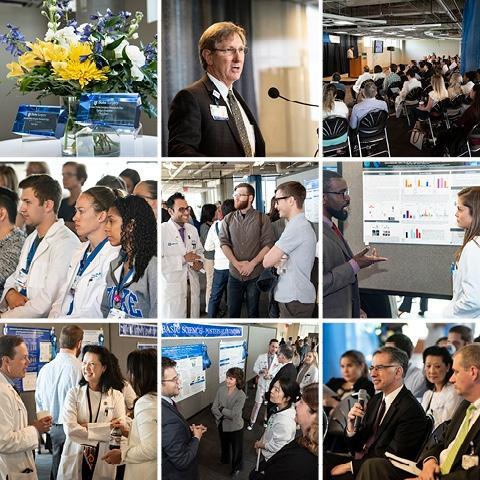 The Department of Surgery held its 4th Annual Research Day April 17. The department holds this event annually to advance its mission of improving patient care through research and training the next generation of surgeon–scientists. The event recognizes the accomplishments of fellows, residents, and students engaged in clinical or basic and translational research through the department.
This year, over 90 abstracts were submitted by faculty and trainees for oral and poster presentations. The top clinical and basic/translational abstracts were selected for oral presentations at a morning symposium, and the presenter of the best talk in each category received a travel grant of $2,500 to the meeting of their choice. In addition, posters of distinction were selected for an award.
Elliot L. Chaikof, MD, PhD, Chairman, Roberta and Stephen R. Weiner Department of Surgery, Surgeon-in-Chief, Beth Israel Deaconess Medical Center, served as guest judge and gave the Hunter McGuire Sweaney Lectureship in Surgery. Through his estate, Dr. Hunter Sweaney endowed a fund to establish the lectureship to be shared by both the Duke University School of Medicine and the University of North Carolina School of Medicine. Dr. Chaikof presented on "Considerations on the Creative Process in Clinical Problem-Solving."
Congratulations to this year's winners! We look to forward to another successful event next year.
For a full list of speakers and photos, please see the photo gallery.
Winners
 
Basic Science
 
| Title | Author | Division | Co-Authors |
| --- | --- | --- | --- |
| Targeting S1P1 internalization avoids T-cell sequestration and provides a novel immunotherapeutic approach to intracranial tumors | Cosette DeChant | Department of Neurosurgery | Pakawat Chongsathidkiet, MD; Lindsey Rein, MD; Alem Kahsai, PhD; Xiuyu Cui, MS; Michelle Yang, BS; Daniel Wilkinson, PhD; Robert Lefkowitz, MD; Peter Fecci, MD, PhD |
| Damage- And Pathogen-Associated Molecular Patterns Play Differential Roles in Late Mortality After Critical Illness | John Eppensteiner | Emergency Medicine | Jean Kwun, PhD, Uwe Scheuermann, MD, Andrew Barbas, MD, Alexander T. Limkakeng, MD, MHS, Eric Elster, MD, Allan D. Kirk, MD, PhD, Jaewoo Lee, PhD |
Clinical Research
 
| Title | Author | Division | Co-Authors |
| --- | --- | --- | --- |
| A Mixed Method Implementation Analysis Assessing Barriers and Facilitators to Improving Safety Culture in a Pediatric Perioperative unit in Guatemala City | Isabelle Sico | Pediatric Surgery | Bria E. Johnston, Mónica Orozco, Angie Aguilar-González, Sindy Mendez Soveranis, Astrid Tello, Caroline Doherty, David Boyd, Joy Noel Baumgartner, Jennifer Headley, Kelsey Landrum, Randall Lou-Meda, Henry E. Rice M.D. |
Posters of Distinction
 
| Title | Author | Clinical/Basic | Division | Co-Authors |
| --- | --- | --- | --- | --- |
| Heat shock protein 90-targetted photodynamic therapy combined with checkpoint blockade efficiently induces tumor antigen-specific immunity and suppresses the growth of breast cancers | Kensuke Kaneko | Basic Science | Surgical Sciences | Kensuke Kaneko MD., PhD., Takuya Osada MD., PhD., Michael A. Morse MD., Philip F. Hughes, Timothy AJ. Haystead PhD., H. Kim Lyerly MD. |
| Adipose Stem Cell Crosstalk with Chemo-residual Breast Cancer Cells: Implications for Tumor Recurrence | Jonah Orr | Basic Science | Plastic, Maxillofacial and Oral Surgery | Matthew Lyes, Ashlyn Rickard, Sturgis Payne, Gabi Hanna, MD, Greg Palmer, PhD, Robin Bachelder, PhD, Scott Hollenbeck, MD, FACS |
| Dual targeting desensitization with Carfilzomib plus Lulizumab significantly prolongs kidney transplant survival in allosensitized nonhuman primates | Paul M. Schroder | Basic Science | Abdominal Transplant Surgery | Robin Schmitz, Zachary Fitch, Brian Ezekian, Janghoon Yoon, John Yi, Ashley Choi, Andrew Barbas, Frank Leopardi, Bradley Collins, Jean Kwun, and Stuart J. Knechtle |
| Understanding Provider Perceptions of Naloxone Prescribing and the Current Prescribing Patterns | Mary Funke | Basic Science | Emergency Medicine | Marcus Kaplan PharmD, Holly Glover RN, Jennifer Mando PharmD, Emily Sterrett MD, Stephanie Eucker MD/PhD |
| The Role of Tumor Phenotype and Histology in the Surgical Treatment of Early Stage Breast Cancer | Anjuli M Gupta | Clinical Research | Surgical Oncology | Williamson, Hannah MS; Greenup, Rachel MD, MPH; Thomas, Samantha MS; Fayanju, Oluwadamilola MD, MA, MPHS; Plichta, Jennifer MD, MS; Rosenberger, Laura MD, MS; Hwang, Eun-Sil Shelley MD, MPH |
| Efficacy of Talimogene Laherparepvec (T-VEC) Therapy in Patients with In-Transit Melanoma Metastasis Decreases with Increasing Lesion Size | Sabran J. Masoud | Clinical Research | Surgical Oncology | Janice B. Hu, MHS, Georgia Beasley, MD; John H. Stewart, MD/MBA, Paul J. Mosca, MD/PhD/MBA |
| Proteomic Analysis During the First 24 Hours of Pediatric Extracorporeal Membrane Oxygenation May Identify Potential Therapeutic Targets | Christopher R. Reed, M.D. | Clinical Research | Pediatric Surgery | Hanghang Wang, M.D., Ph.D.; Uttara P. Nag, M.D.; Jina Kim, M.D.; Harold J. Leraas, M.D.; James Otto, Ph.D.; Jennifer Turi, M.D.; Elisabeth T. Tracy, M.D. |
| A Comparison of Direct versus Video Laryngoscopy for Difficult Airway Patients in the Emergency Department: a National Emergency Airway Registry (NEAR) Study | Brandon Ruderman | Clinical Research | Emergency Medicine | Martina Mali, MD; Amy H. Kaji, MD, PhD; Joseph B. Borawski, MD, MPH; Alexander T. Limkakeng, Jr, MD, MHSc; Robert Kilgo, MD, FACEP; David F. Goldberg, MD; Andrea E. Fantegrossi, MPH; Calvin A. Brown III, MD |